What Is Sulis Computing?
Sulis Computing was formed by Paul Chehowski in the Ottawa area, Canada's high tech capital, shortly after leaving Corel in 1993. Sulis was used to have fun exploring Windows software development in areas such as CDROM, SCSI, USB, utilities, drivers, computer telephony, SQL Server, WiFi, Instant Messaging and most recently .NET. The purpose of Sulis is to have fun doing software development, and hopefully to make a little bit of money along the way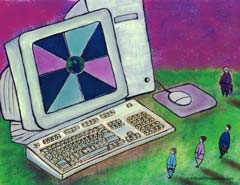 Current Activities?
Currently active in various development areas such as WiFi (802.11) and other wireless technologies, especially as it relates to notebooks, PDAs and cellphones, and becoming fluent in C# and .NET programming. Plan on releasing some shareware/freeware applications on this web site periodically. Recently became involved in a promising new startup which is very exciting.